Time2Rent.com
Phoenix Arizona Property Management
CALL: 602-944-7368
Some Important Facts About Our Maintenance Services...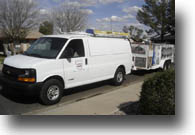 At Time2Rent.com we are a full-service maintenance company, providing rent-ready home preparation as well as scheduled and emergency maintenance.
We have developed the SuperCrew concept of maintenance, which provides an efficient and cost-effective way of providing high-quality maintenance. Large jobs or small, scheduled or emergent, we provide all types of maintenance services.
Owners and Tenants alike can submit maintenance requests thru our 24-hour online portal or by telephone. Either way, you'll get a prompt and courteous response. Guaranteed!
We are also concerned about Arizona's environment, so we use materials that help conserve energy and save money. We install EnergyStar fixtures, compact fluorescent lightbulbs, high-flow air filters, low-flow water fixtures, and much more. Using these cost-saving and energy-saving techniques, tenants and owners come out ahead, and so does our environment.
If there is a kind of maintenance work that we cannot do, we have yet to discover it. We do lawn, sprinkler, and pool service; plumbing, paint, glass work, cement and pavers, fencing, air conditioning, electrical, and on and on.
If you are an investor, and would like a maintenance or rehab quote for one of your properties, call us at 602-944-7368 or email maintenance@time2rent.com. You'll be glad you did!
---
» Learn more about our company
» Contact us by phone, email, or web form
» Learn more about our services